Load news for previous years:
Showing all articles for 2018
Query found 2 articles


1st Pancake Breakfast Success- Thank You
Tuesday, January 30, 2018
The Baldwinsville Vol. Fire Company thanks you, our neighbors, for supporting your volunteer firefighters and joining our families at breakfast. We hope that you and your families enjoyed our breakfast and will return for our next breakfast on February 25th.
» Read Full Article
News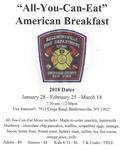 2018 Pancake Breakfast Schedule
Wednesday, January 03, 2018
2018 Pancake Breakfast Dates January 28, 2018 February 25, 2018 March 18, 2018
» Read Full Article
News