Load news for previous years:
Showing all articles for 2020
Query found 2 articles


Pancake Breakfast CANCELLED
Friday, March 13, 2020
PANCAKE BREAKFAST CANCELLED: Our volunteers regret to announce that we will be cancelling our March 29th pancake breakfast for the safety of our community.
» Read Full Article
News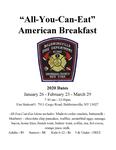 2020 Pancake Breakfast Dates
Monday, January 06, 2020
ALL YOU CAN EAT. Made to order omelets, pancakes (blueberry, chocolate chip), waffles, scrambled eggs, sausage, bacon, home fries, french toast, toast, coffee, tea, orange juice, milk.
» Read Full Article
News