5th Annual Parade of Lights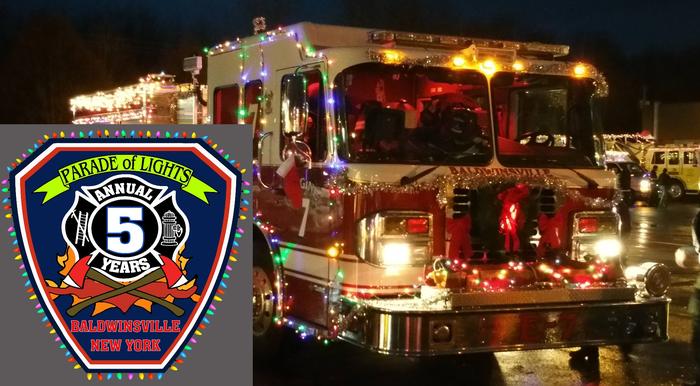 Wednesday, October 31, 2018
PARADE OF LIGHTS- 5th Annual
SATURDAY NOVEMBER 24 2018
(rain, snow, or shine)
START 5:30 P.M.
This will be a judged parade and we encourage fire departments, ambulance corps, businesses, and community groups/organizations to use their imagination when decorating! The more, the merrier…
The parade is similar to a firefighter's parade held in conjunction with field days with the exception that this is at night and with a festive theme of the season. Members are encouraged to march, ride, and/or participate in a method of their choice as long as it is done in a safe and family friendly manner.
Please keep in mind that the parade is in conjunction with the Village of Baldwinsville's annual tree lighting ceremony and the last vehicle in line will be delivering Santa to the lighting ceremony.
Following the Parade of Lights and tree lighting, the Village of Baldwinsville will be providing family friendly activities as well as hot drinks and refreshments (at the Village Library). Families can also visit and take pictures with Santa at the Library following the parade. We hope you join us in welcoming in the holiday season.
Prizes will be awarded this year in the following categories:
1st Place- Best decorated fire department / EMS / Police vehicle
2nd Place- Best decorated fire department / EMS/ Police vehicle
Best decorated business / group / community organization
1st Place- Furthest traveling FD
2nd Place- Furthest traveling FD / organization
Community Award: Most festive tailgate along the parade route
Last year's parade had roughly 7,000 people in attendance to see over 61 fire departments, EMS corps, organizations, and businesses participating including nearly 54 emergency vehicles. With your help, we're looking to make this year even bigger and brighter.
If your department, corps, business or organization wishes to participate or has questions please contact:
paradeoflights@baldwinsvillefire.org
When registration is confirmed, additional detailed information will follow by email.
Details and updates will be posted on the Baldwinsville Vol. Fire Company Facebook page and website (www.baldwinsvillefire.org)
« Return to news listing